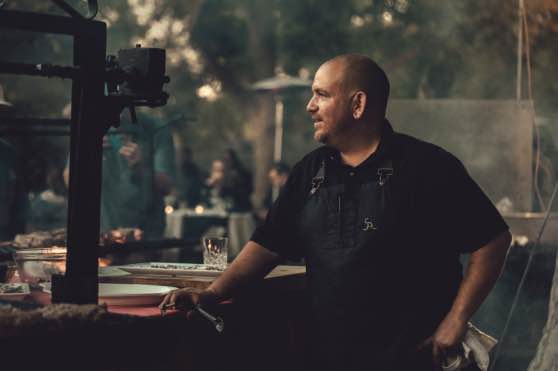 For anyone hungry for the secrets to great grilling, the next Alisal BBQ Bootcamp will be hosted at the Ranch in 2020 and is guaranteed to be a taste adventure.
In the grand tradition of the Wild West, The Alisal has for decades treated grilling as a fine art, and with the help of our guest grill masters, we are mighty excited to help you take your grilling skills to the next level.
Add to all the grilling, and ranch activities, some complimentary wine tastings at nearby wineries and tasteful BBQ Bootcamp mementos, and you have all the fixin's for an unforgettable getaway. If you're interested in participating, we suggest you sign up soon, because spaces will fill go faster than a happy pup's tail.
Sign up to receive updates from the Alisal and you'll get all future juicy details right in your inbox.
May 3rd – 5th, 2020
(Sunday – Tuesday)
Call for Availability & Pricing:
This Experience Includes:
Studio accommodation for two nights, double occupancy (Sunday – Tuesday)
Welcome amenity with Western-Style weekend accessories
All meals including special dinners with local celebrity chefs, winemakers and brew masters
Workshops on grilling methods and equipment, BBQ instruction, spice blending, and more
Keepsake booklet for BBQ notes and recipes
Breakfast ride to Historic Adobe by horse or hay wagon
Complimentary wine tastings at nearby Santa Barbara County wine tasting room destinations.
Suites available – two nights, double occupancy
Prices inclusive of taxes and service charges
Limited availability. Adults only.
Whet your whistle with some details and photos from our past BBQ Bootcamps…
We have yet to publish the details for our 2020 Bootcamp. In the meantime, you can learn more about what happened in our amazing 2019 sessions!
In 2019, we kicked things up a notch with the addition of superstar chefs like Burt Bakman, Paula Disbrowe, Valerie Gordon, and Bob Oswaks. The four visiting chefs joined Hitching Post II owner & winemaker, Chef Frank Ostini, and the Ranch's own Executive Chef, Anthony Endy, as they served up grilled feasts and revealed the tips and tricks for creating great BBQ.
PAST ITINERARY: View the Itinerary for BBQ Bootcamp Fall 2019
Photos from Previous Sessions
BBQ Bootcamp 2019 Guest Instructors
As way of introduction to this all-star team of "pit pros", here is a little background on the featured chefs. First, there is pitmaster Burt Bakman, a Los Angles based chef, legendary for hosting BBQ pop-ups and an advocate for low-and-slow method of smoking meat. Bakman works his magic with Big Bertha, his trusted smoker, which fuels his passion for the art of Texas-style BBQ. Next we offer you the best-selling, award-winning cookbook author, former restaurant manager, and Austin-based chef Paula Disbrowe. Paula recently penned the barbecue cookbook, "Thank You For Smoking", which provides insight into the barbecue world, along with expert hints for grilling success. Finally, Valerie Gordon is one of Los Angeles's top chocolatiers and the author of the cookbook Sweet (a James Beard Award Finalist). She will serve as the "Sweets" specialist at BBQ Bootcamp. Valerie will be demonstrating a host of sensational grilled desserts.
The BBQ Bootcamp morning sessions will cover all the aspects of BBQ, from the best way to start a fire to what to do with spice rubs; afternoons are free for horseback riding, golf or a visit to the spa; and evenings give you a chance to interact with local guest chefs and winemakers who will be on hand to create feasts designed to further fire-up your love of all things barbecue.
Featured Chef Burt Bakman
Alisal Guest Ranch & Resort introduces its May BBQ Bootcamp 2019 guest, Burt Bakman, pitmaster-in-chief of Trudy's Underground Barbecue. A native of Israel who immigrated to the United States as a teen, Bakman developed a lifelong passion for barbecue after tasting signature smoked meats in Austin, Texas, and was quickly transformed into an advocate for low-and-slow method of smoking meat. Bakman works his magic with Big Bertha, his trusted smoker, which fuels his passion the art of Texas-style smoking. Using red or white oak, each batch of Bakman's smoked brisket is an 18-hour labor of love, with careful tending every 30 minutes.
Through social media and his stellar word-of-mouth reputation, Bakman has built his Instagram account to over 15,000 followers, all from his loyal fans of mouthwatering backyard barbecue in Los Angeles' Studio City. Using only direct messaging on Instagram, Bakman's popular smoked meats sell out weekly and his popularity has led to pop-ups at iconic Los Angeles establishments, such as Alfred's Coffee and Fat Sal's. Bakman gained notoriety from a feature on KCET and in reputable foodie hub Eater LA. Soon, Angelenos and visitors alike will be able grab a seat at Bakman's highly anticipated Texas barbecue-style restaurant, Slab BBQ, in West Hollywood opening November 2018.
Featured Chef Paula Disbrowe
James Beard award-winning cookbook author, former restaurant manager, and Austin-based chef Paula Disbrowe joins the star-studded lineup of guest chefs at Alisal Guest Ranch & Resort's May 2019 BBQ Bootcamp. Paula recently penned barbecue cookbook, "Thank You For Smoking", which provides insight into the barbecue world, along with expert tips and tricks of the trade.
A true barbeque aficionado, Disbrowe's culinary writing has appeared in The New York Times, Bon Appetit, Coastal Living, Food & Wine, Southern Living, The Local Palate, and Delta Sky, among other national publications, and she previously served as the food editor of Restaurant Business Magazine. Her seven cookbooks have been featured on the New York Times Best Sellers list and was awarded both the James Beard Award for Best American Cookbook and the International Association of Culinary Professionals Award for Best American Cookbook.
She has also served as the General Manager of Northern California's Feather Down Farm Days, a glamping experience that introduces the European-based farm stay concept to the U.S. market.
Featured Chef Valerie Gordon
Valerie Gordon is a celebrated chocolatier who has been recognized in Food & Wine, Bon Appétit, The Wall Street Journal, and Saveur, served as a guest judge on BRAVO's "Top Chef: Just Desserts" and FYI's "Man vs. Child," and appeared numerous times on The Food Network and The Cooking Channel. She co-founded Valerie Confections in 2004 with her life and business partner Stan Weightman, Jr. as a tiny, family-run business with just six flavors of chocolate-dipped toffee. Now a top chocolatier in the country, her business has grown exponentially with a full line of chocolates, petits fours, handmade preserves, cakes, pies, and pastries—all incorporating the very best ingredients and offering a delicious spin on the unexpected. In addition to her flagship shop in Los Angeles' Silver Lake neighborhood, she also celebrates her savory side with contemporary Californian, French-inspired breakfast and lunch fare at her two cafes and bakeries in Echo Park and downtown's Grand Central Market. She wrote and styled her first cookbook, Sweet (Artisan Publishing, 2013), which was a James Beard finalist.
Featured Chef Bob Oswaks
Bob's passion for food and wine was always a component of the industry business meetings and entertaining of his former career as a television executive, so he built a wood-fired oven in his backyard. He discovered bread making. His good friend Clark Staub, owner of Full of Life Flatbread in Los Alamos, gave Bob a copy of the famed Tartine Bakery cookbook and some of his "starter" and encouraged him to explore the world of bread. Bob began experimenting, challenging himself to bake the perfect loaf. He knew from his past profession, success requires ritualistic dedication. Baking daily, Bob's bread got better and better, and he came to the realization that he "liked making bread more than he liked wearing a suit and shaving every day."
Bob found the ideal location for a bakery/café in the east entrance of Los Alamos at 550 Bell Street, and over the course of five months, he refurbished and modernized the vintage service station, turning it into a state-of-the-art bread shop. "We wanted it to be very natural and organic," Oswaks said. "So, you've got steel and stone, wood, simple tile and classic lighting." While sanding the painted floors, they discovered old growth Douglas fir, now beautifully restored and part of the interior design of Bob's Well Bread Bakery.
Since its inception, locals, travelers and journalists alike have embraced Bob's Well Bread Bakery artisan breads and bakery. The bakery has become a successful family business and integral part of the growing Los Alamos community. Bob is committed to products that are hand-made with only the finest ingredients and natural starters. No added preservatives will be found in any baked items, and he strives to source ingredients locally using farmers and growers who practice the purest growing initiatives.
Call for Availability & Pricing:
We all know that wine and cheese go together like eggs & bacon. We're happy that Stepladder Ranch and Creamery has designed a special collection of cheeses and cheese wheels for this event. We do hope you'll be able to enjoy them with us!